Transfer to Saint-Jean-Pied-de-Port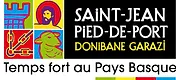 The village of Saint Jean Pied de Port is located in the heart of the Basque Country.
It is a major stage on the pilgrimage route to Santiago de Compostela, just before crossing the Pyrenees to Roncesvalles in Navarre, some fifty kilometres north of Pamplona. You can stop off at the Roncesvalles Monastery, reopened in 1982.
Our team of drivers can collect you from Biarritz airport and take you to Saint Jean Pied de Port.
We can also pick you up at Bayonne or Biarritz station.
We are available for transfers to Saint Jean Pied de Port 7 days a week and 24 hours a day depending on your needs.
We have VAN vehicles with up to 7 seats that can also carry your luggage.